Quick Links
How To Unlock All Dishes At The Maji Market
How To Unlock The Poke Bowl Recipe
The Majiri people who inhabit the world of Palia have their own variety of cultures, traditions, and festivals that occur. One of these is the Maji Market, a festival celebrating their beloved deity, Maji, as well as having a good time with friends and family. There's lots of food, fireworks, Chapaa-related mayhem, and rewards to gain.
RELATED: Palia: How To Use The Shiny Large Pebble
As part of the event, several event accomplishments are available to players to complete via stamp cards, and they offer exclusive rewards. In this guide, we'll show you how to complete the Just Desserts stamp card and obtain the Poke Bowl recipe.
How To Unlock All Dishes At The Maji Market
To be able to complete the event Stamp Card that rewards you with the Poke Bowl, you'll need first complete the two event quests that involve the Maji Market, Kenyatta's Cravings and Maji Market Mayhem.
Kenyatta's Cravings
Kenyatta's Cravings is unlocked by visiting the Maji Market for the first time, and the market is accessed by going to its area via the gate at the lower east portion of Kilima Valley, east of Fisherman's Lagoon.
This quest involves introducing you to the various stalls at the Maji Market and the minigame specific to the event, Chapaa Chase. Completing Kenyatta's Craving will unlock the next quest, Maji Market Mayhem, which is given to you by Eshe.
Maji Market Mayhem
Maji Market Mayhem will involve helping both Delaila and Reth with their stalls and unlock the two dishes not immediately available in the market: Delaila's Rolled Ice Cream and Reth's Ice Cream Mochi.
Once both these quests are complete, you'll have the ability to unlock the Poke Bowl.
How To Unlock The Poke Bowl Recipe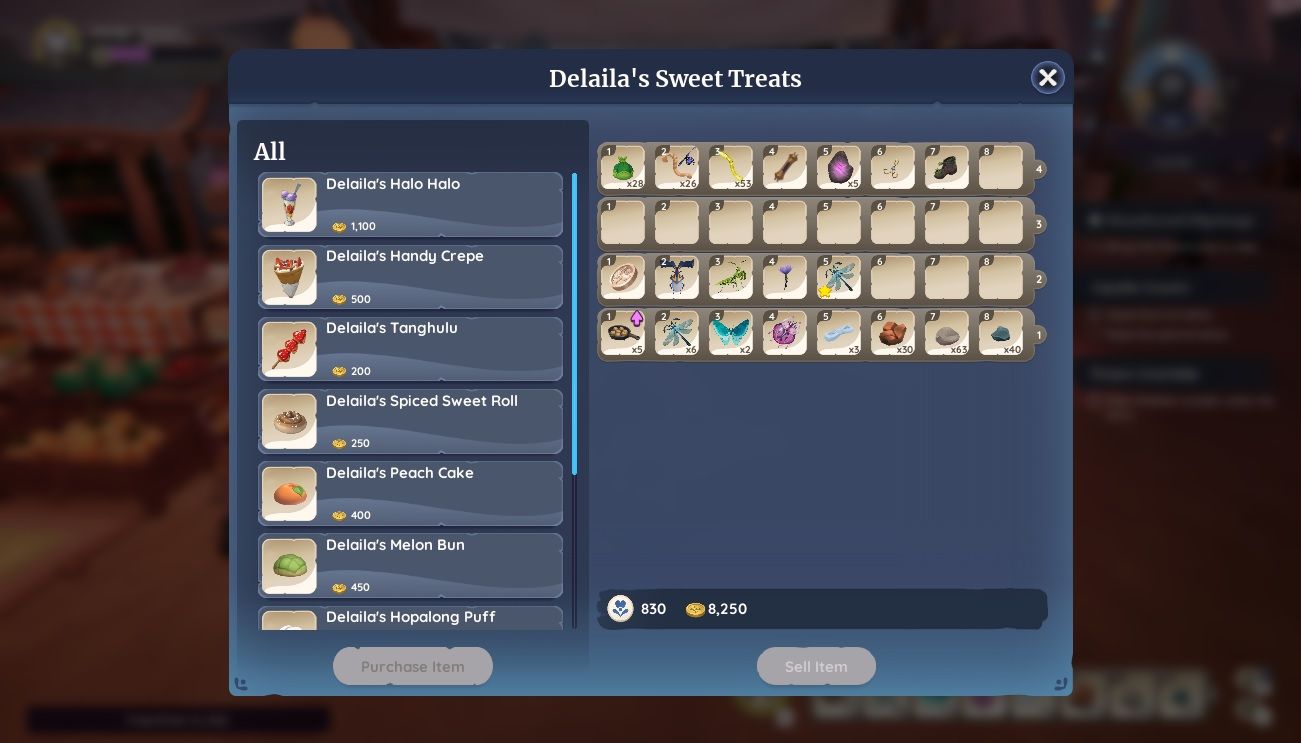 To get the Poke Bowl recipe, you'll need to complete the Just Desserts event stamp card, which can be viewed by going to the Event page in your menu and scrolling down to the bottom of its tab.
Completing Just Desserts required you to eat all eleven sweet food dishes sold by Delaila, Reth, and the Chapaa Hut, including the two you unlock during the Maji Market's quests:
Reth's Ice Cream Mochi
Reth's Red Bean Mochi
Delaila's Halo Halo
Delaila's Handy Crepe
Delaila's Tanghulu
Delaila's Spiced Sweet Roll
Delaila's Peach Cake
Delaila's Melon Bun
Delaila's Hopalong Puff
Delaila's Rolled Ice Cream
Chapaa Pop
Once you eat all eleven, the Just Dessert stamp will be complete, and you'll receive the recipe.
As you can only eat an amount equal to your maximum focus, you'll need to do focus-draining tasks in between eating the foods, such as mining or fishing.
Purchasing all eleven items at once and then going about normal game activity allows for everything to be obtained in one trip, and you can eat the foods as you lose Focus.
NEXT: Palia: Zeki's Expanded Backpack Quest Walkthrough