Love with Food Deluxe Box sends 15+ surprise snacks from various healthy snack brands each month. It's an ideal snack box for sharing at home or if you are a heavy snacker. This particular plan promises to include plenty of snacks for everyone and a few duplicates. Also, the snack box only includes snacks made with real ingredients and no added chemicals. The Deluxe Box is $19.95 a month. Love with Food also offers other snack boxes such as the Classic Tasting Box and the Gluten-Free Box.
Our team scours hundreds of brands every month and chooses the best tasting, feel good options for your box.

No chemicals, artificial flavoring, MSG or high fructose corn syrup
Clean and delicious snacks made with real ingredients
Every snack passes our 73 Banned Ingredients List
Expertly sourced, vetted and curated
DEAL: Save 40% off your first Love With Food Box:
Or, save 25% off your first Gluten-Free Box: use this link to subscribe!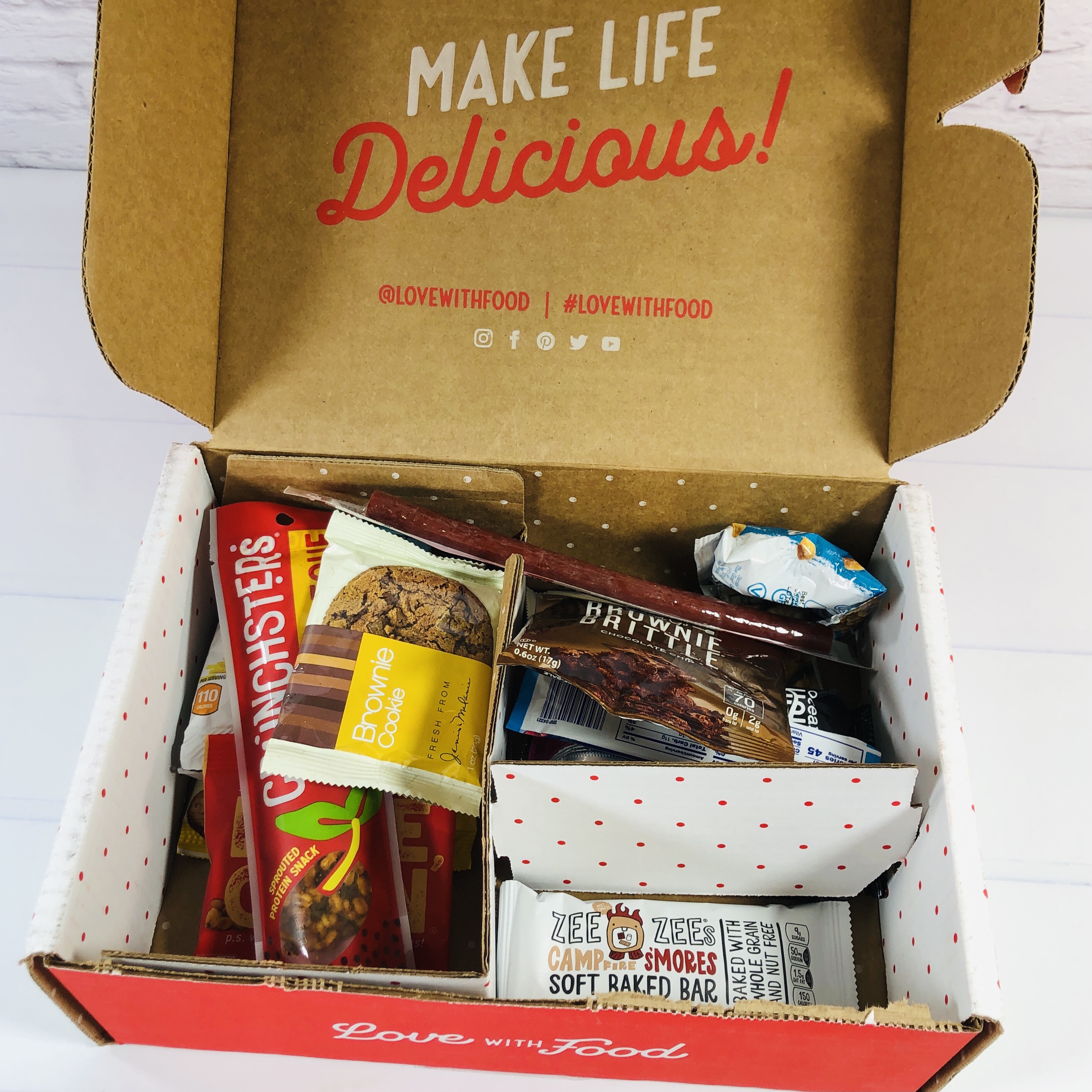 Packed to the top! You can find some of the items sampled each month on the Love With Food website.
For every box sent to subscribers, Love With Food donates 2 meals to families in need. Don't forget to review your snacks so you can earn points for even more snacks!
The only insert this month was this promo code.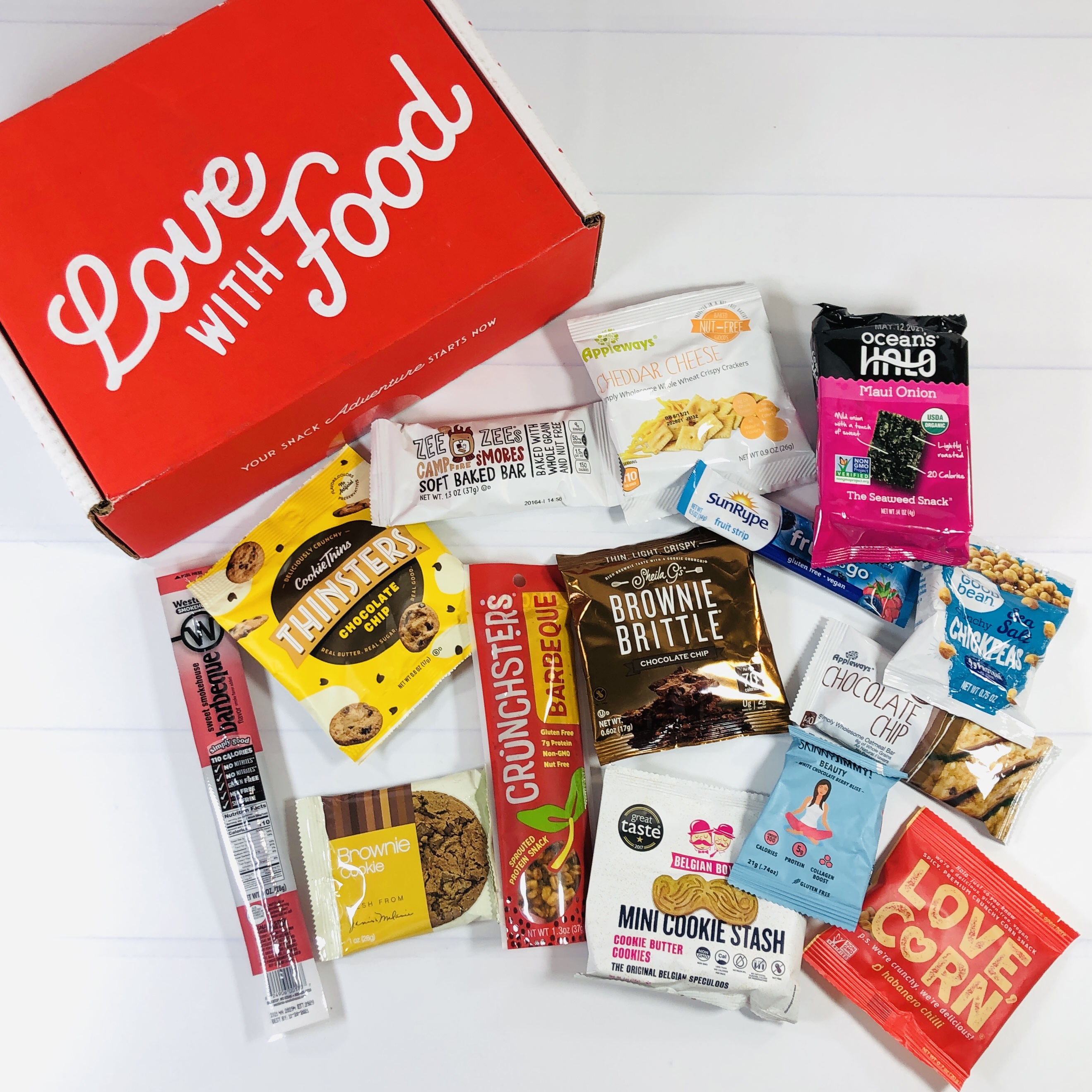 Everything in my box! I usually find some past favorites as well as new flavors and products each month.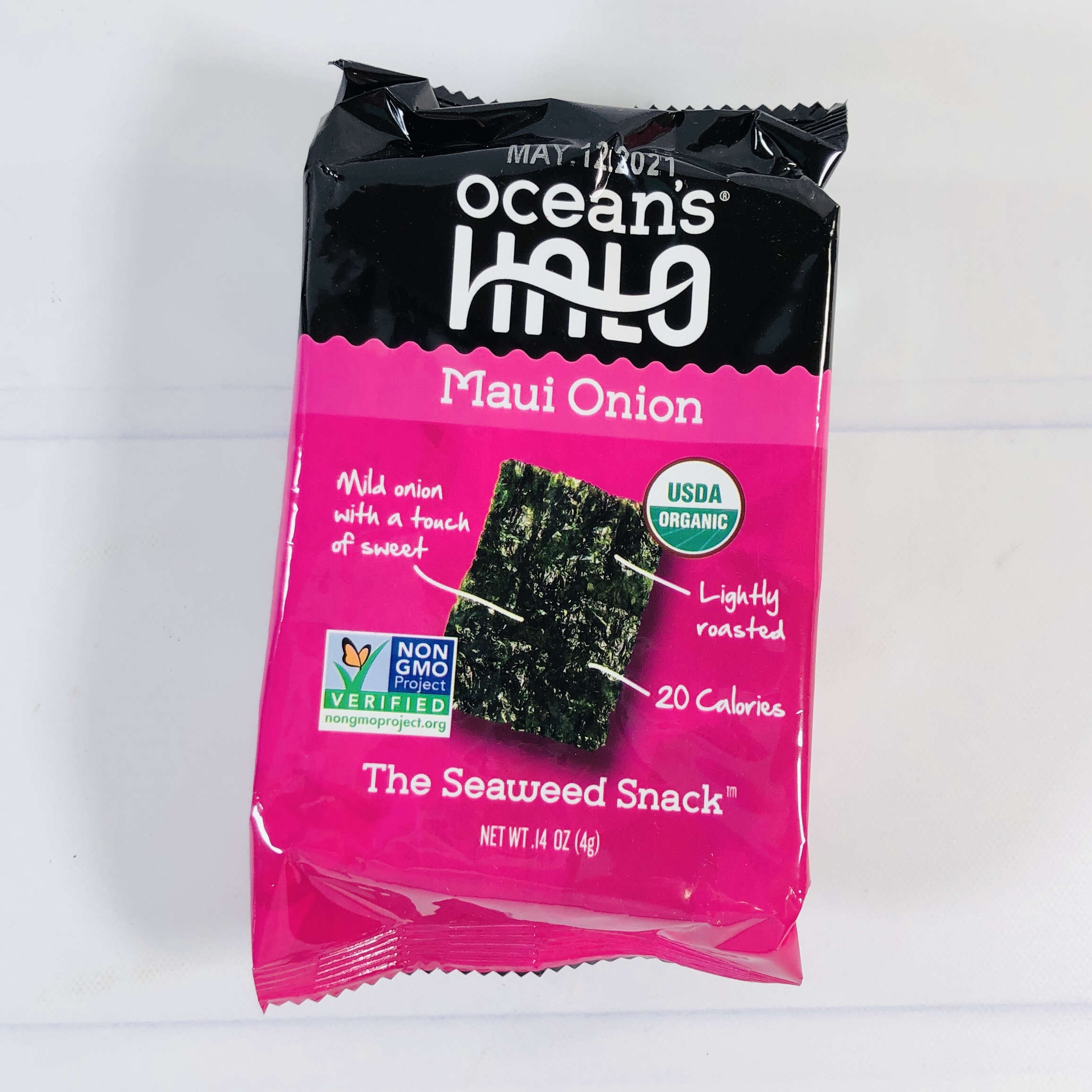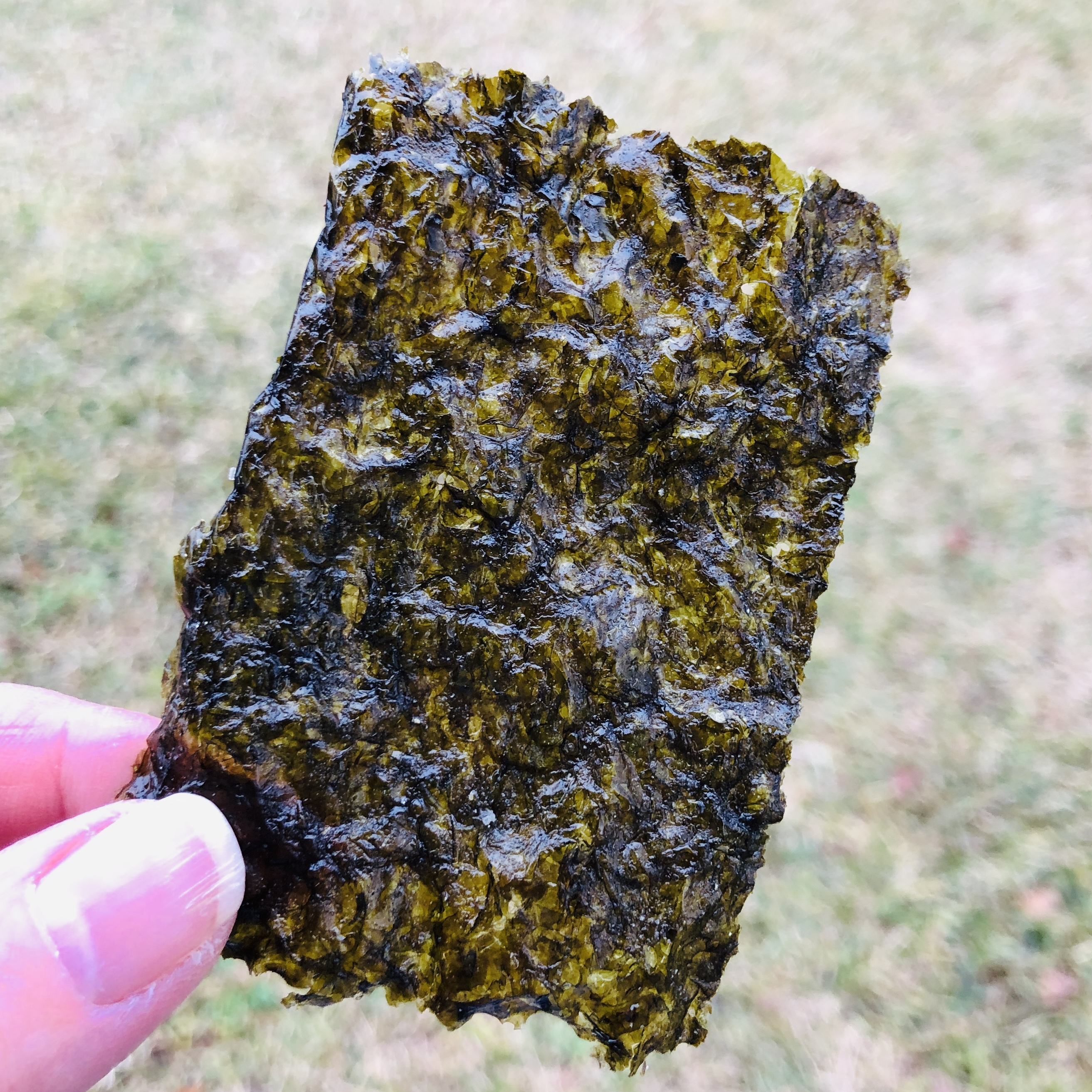 Ocean's Halo Maui Onion Seaweed Snack is a sheet of nori, or seaweed, and in this case it has some Maui onion flavoring that gives it a little something extra. I don't think I will ever be a seaweed fan, it's too fishy for my tastes, but I did like the sweet and salty flavor here.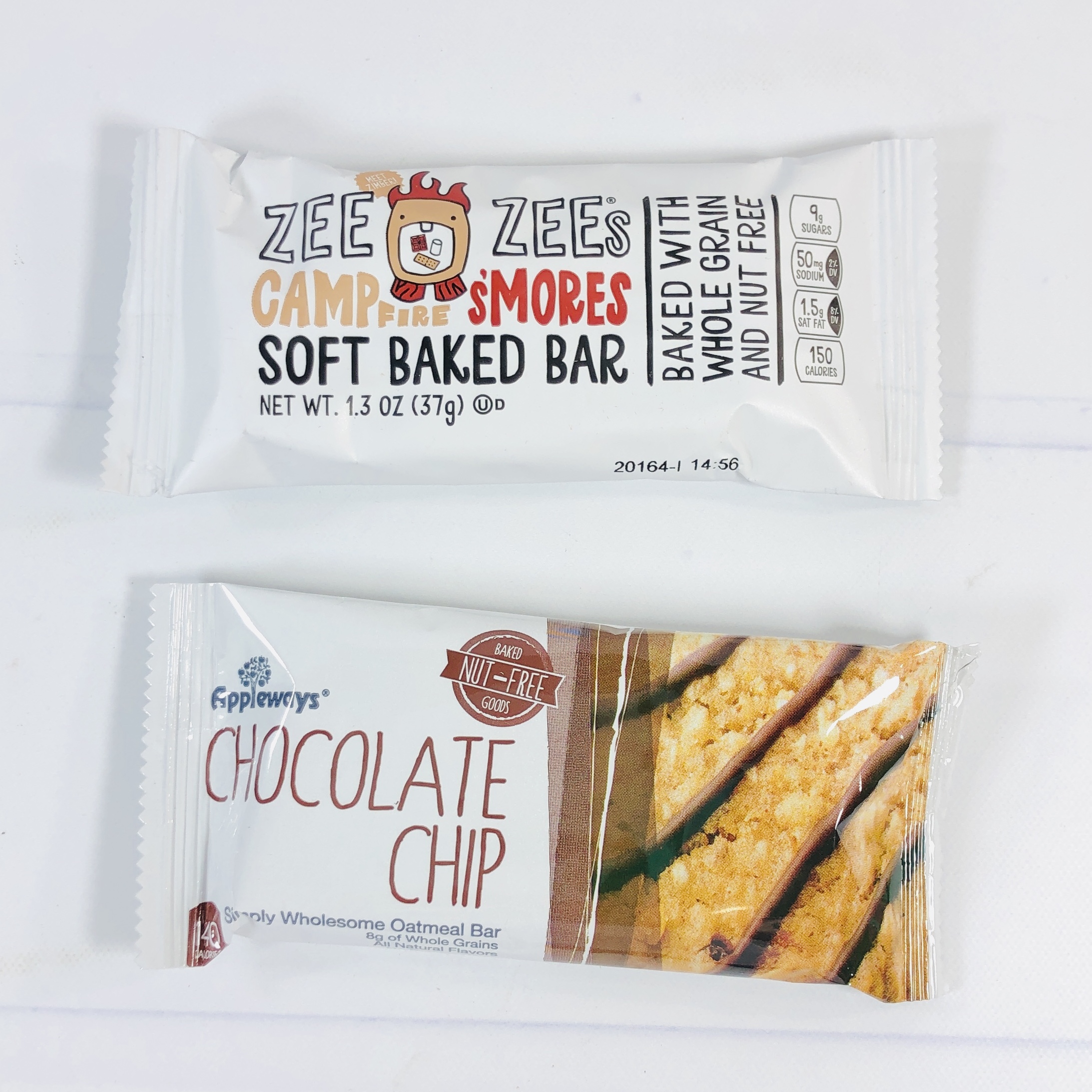 Zee Zee's Camp Smores Soft Baked Bar are soft baked oatmeal bars and my daughter loves this kind of snack. The s'mores flavor has a chocolate drizzle and marshmallow bits.
Appleways Chocolate Chip Oatmeal Bar is another soft baked oatmeal bar, which are pretty cool to keep on hand for a light breakfast option or for an afternoon snack. The nutritional breakdown for this bar and the one above are very similar.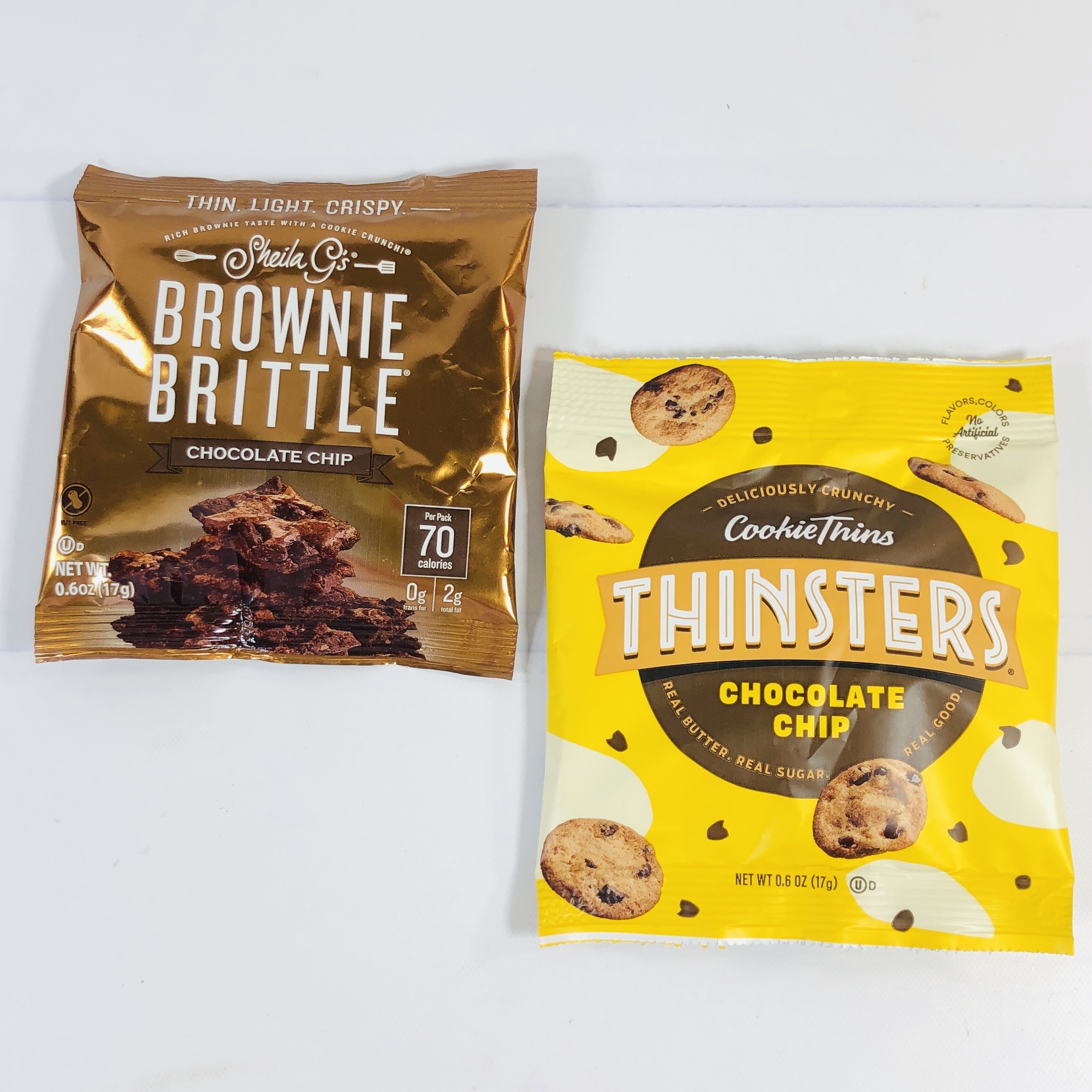 Sheila G's Brownie Brittle Chocolate Chip and Cookie Thins Thinsters Chocolate Chip are snack time favorites, sweet and crunchy with chocolate, my favorite! The brownie brittle reminds me of the crunchy edges from a pan of brownies while the cookie thins have that classic buttery, caramelized flavor.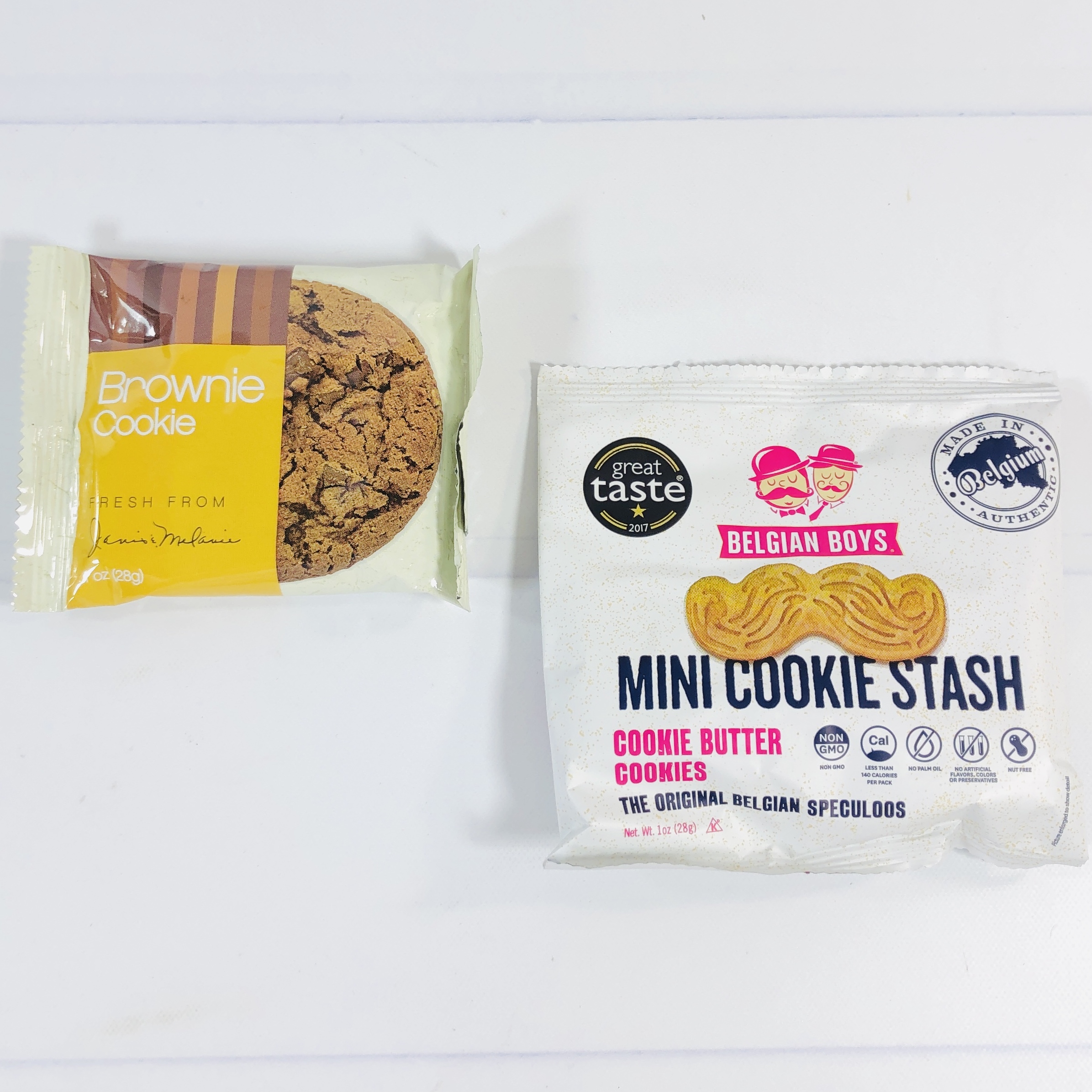 Janis & Melanie Brownie Cookie Pour a glass of milk and heat this soft baked cookie in the microwave for like 5 seconds to get it warm and melty. You're welcome.
Belgian Boys Mini Cookie Stash Cookie Butter Cookies are Belgian speculoos cookies, similar to ginger snaps but without the ginger. These are shaped like a mustache so you can play with your food before snacking.
Here's the cookie, which was super yummy, sweet, and comforting.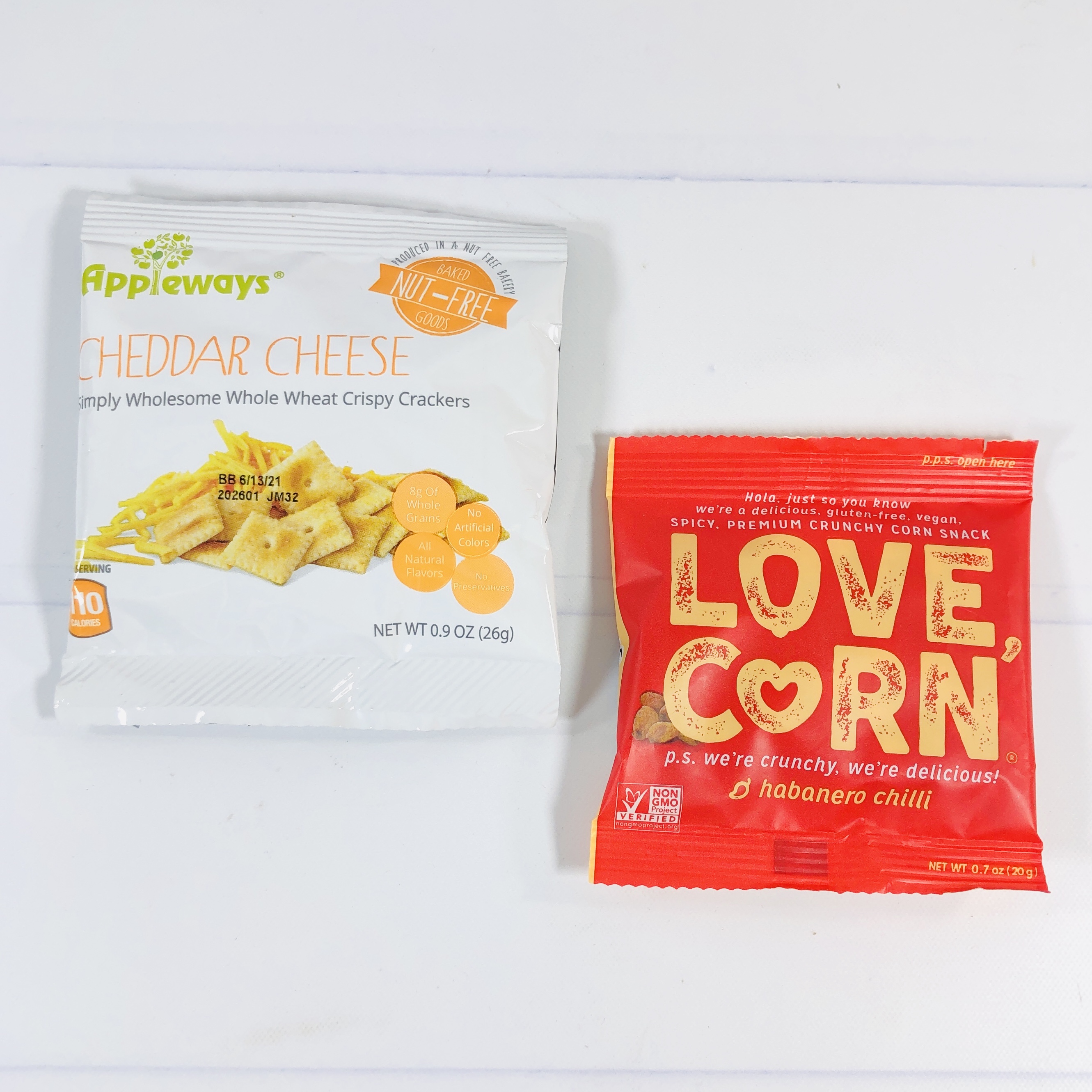 Appleways Cheddar Cheese Crispy Crackers I feel like these are supposed to be a healthier take on Cheez-Its but they just taste like a healthier version of Saltines. I didn't think the cheese flavor was prominent at all but they were crunchy.
Love, Corn Habanero Chilli are classic corn nuts but with a spicy habanero coating that wasn't mouth numbing, just pleasant.
Western's Smokehouse Sweet Barbeque is a meat stick and I just go ahead and pass these to my husband. This one is made with beef and pork and there are 110 calories.
Crunchsters Barbeque Protein Snack are super tasty, I love BBQ flavored snacks. These are dried, sprouted mung beans (those sprouts that are served alongside pho noodle soup) and flavoring ingredients and there is an impressive 5 grams of fiber in this pouch.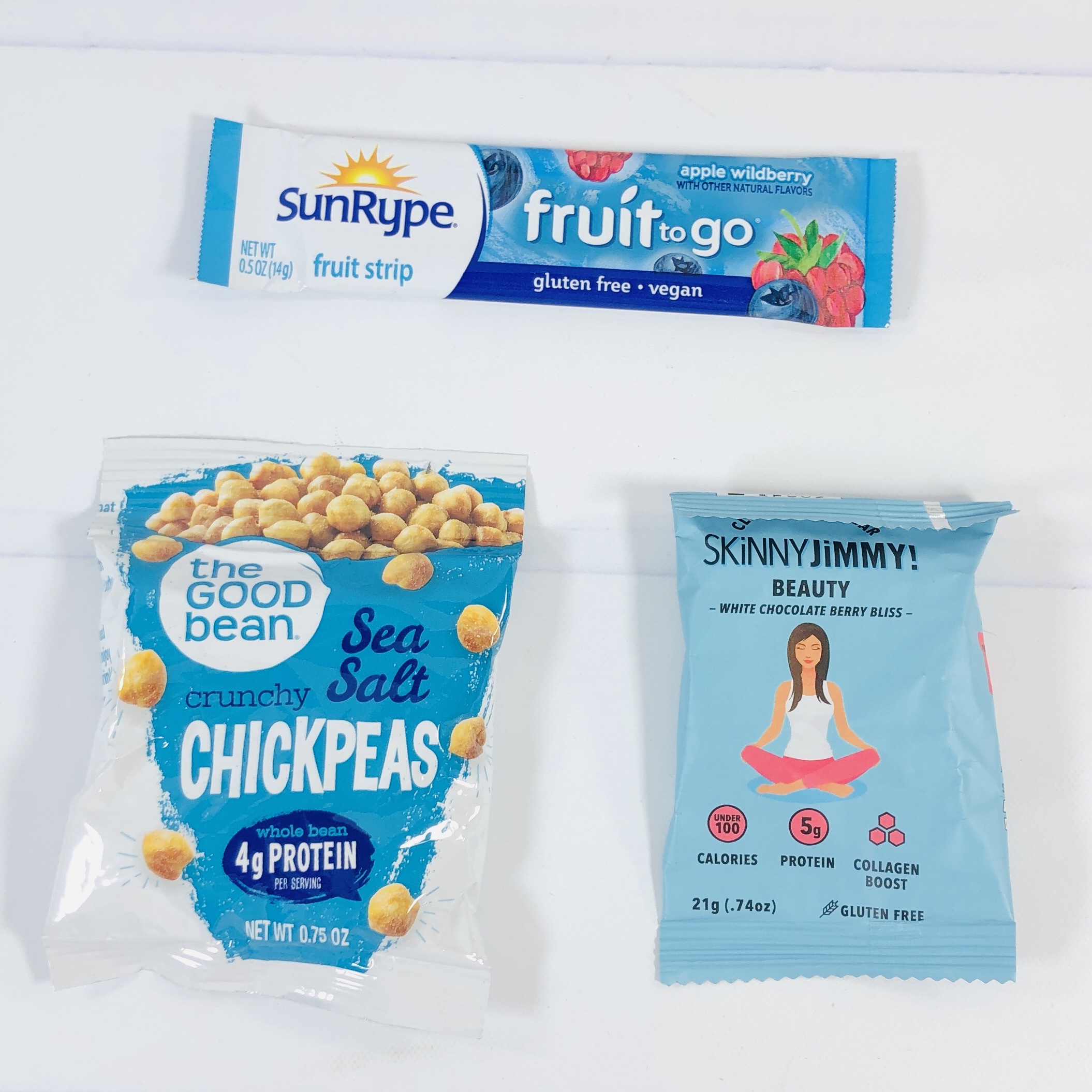 SunRype Fruit To Go Fruit Strip is a fruit strip and my daughter is the consumer of this type of snack in my home. It has various fruit juices including lesser known varieties such as boysenberry and elderberry.
The Good Bean Sea Salt Chickpeas are roasted garbanzo beans that are lightly salted. They are kind of dry but they have a decent amount of fiber.
Skinny Jimmy Beauty Bar White Chocolate Berry Bliss I tried a peanut butter version of this bar a while back and loved it but the Berry Bliss flavor is not doing it for me. There is collagen added to promote healthy skin and the bar is sweetened with tapioca fiber syrup. There are blueberries, cranberries, and raspberry powder plus white chocolate chips. I liked the crispy bit but I didn't think the bar tasted much like berries at all.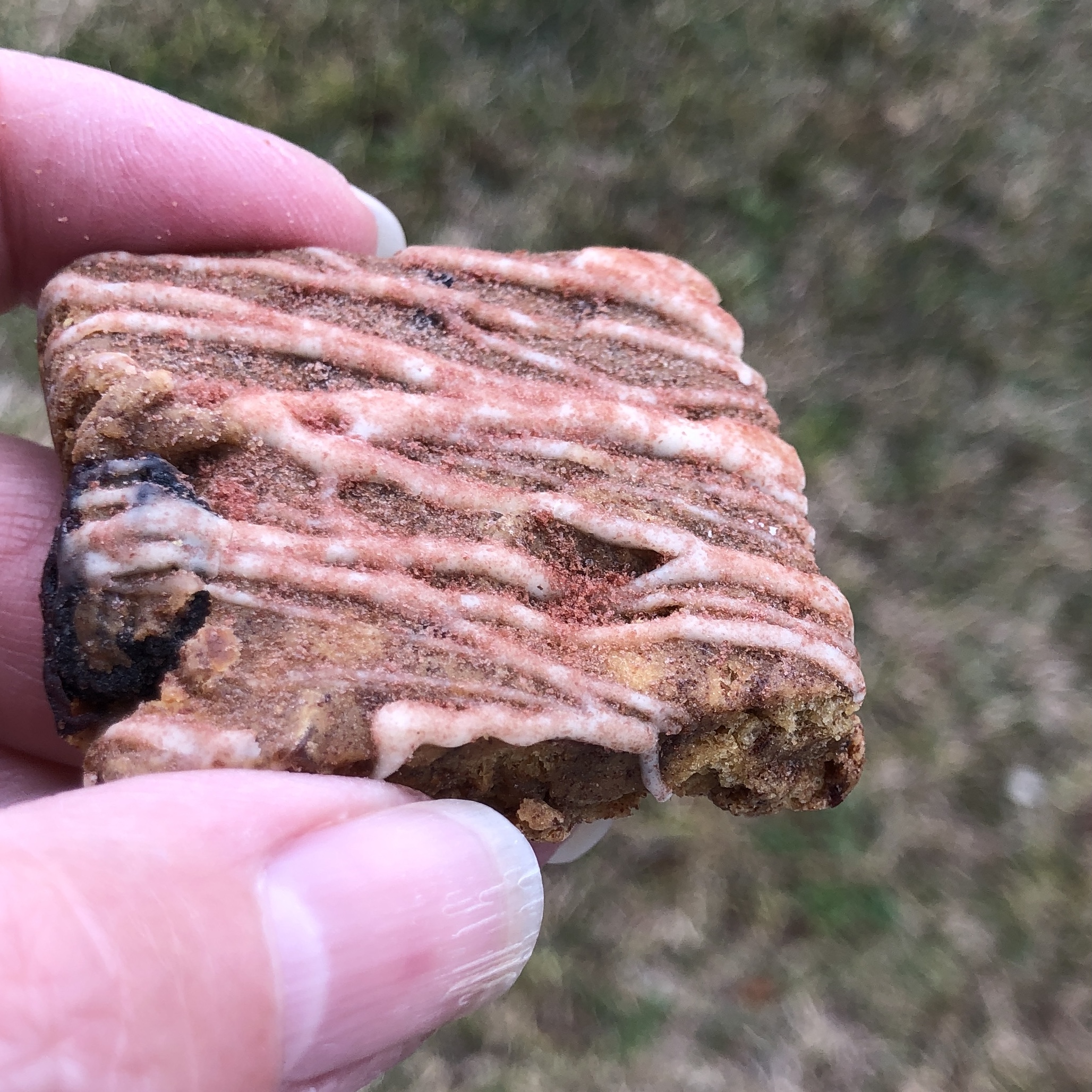 Here's a picture of the Skinny Jimmy bar.
So many different snacks to choose from in my December Love With Food Deluxe Box! I always appreciate the variety including bars, cookies, chewy fruity snacks, and crackers. There's sweet, salty, and even BBQ flavors in this box and they are usually in single serving portions. There were 14 snacks in my box (I think it's supposed to be 15+) so that comes out to about $1.43 a snack.
What's your favorite snack from the Love With Food Deluxe Box this month?
Visit Love with Food Deluxe Box to subscribe or find out more!