Not to say it's cheap. Currently listed for $795 on Herman Miller's website (£845 in the UK), this is hardly a 'budget' option, but at less than half the price of the Embody, it's certainly more affordable and boasts the same attention to ergonomic detail you'd expect from a firm with a reputation for delivering the very best in the business when it comes to parking your derrière for prolonged durations.
For your money, you get features such as 'Enhanced Gamer Tilt', 'PosterFit Spinal Support', and a thoratic support pad, as well as regular things you'd expect such as breathable suspension materials and an adjustable headrest. Notably, the Embody doesn't come with a headrest, and for streamers and people working at a desk in an upright position, perhaps that isn't so much of an issue. But for anyone wanting to recline and relax in the chair while they play — perhaps with a Nintendo Switch nestled in their hands — the head support here is a welcome addition.
You also get a 12-year warranty, so the price becomes more palatable when viewed as a long-term investment.
What's in the box?
The Vantum comes in three pieces. Simply slide the seat onto the base, sit on it a few times, and you're almost there. The headrest slides into the back and offers quite a lot of resistance, but once we'd doublechecked we hadn't missed a 'release' button or the like, a little force had it slotted into position and we were good to go.
The textiled cushioning, armrests, and legs are all black, but there's a choice of three colour options for the back and seat frame: 'Obsidian' black, 'Polar' white, or 'Flare' red. Compared to your average gamer chair, it's all quite classy and subdued — no LEDs or crass branding plastered over these. The red adjustment wheels under the seat and the lumber adjustment in the back provide a dash of raciness, but a little label and stamp on the rear are all the branding on display. Herman Miller sent us the white version and it fits in nicely in an office environment without screaming your leet gamer credentials at anyone who pops their head in the door.
Beyond some warranty documents and bumph, no adjustment instructions are included, so you'll have to experiment or go online to find out exactly what each of the knobs and levers do. It's all relatively self-explanatory, but given the price you might expect to find a little laminated card in the package detailing how to tweak lumber support, best posture practices, and what have you.
First impressions
Having wheeled our Ikea Hattefjäll into the spare room, we sat down and began adjusting the Vantum to our liking — overall height, armrest height and position, seat position, headrest level and angle, lumber support, and so on.
Setup is straightforward, but it's immediately apparent that this chair is designed to improve your posture and make you sit up straighter. We spent quite a while fiddling with the recline resistance dials to find something that didn't feel like we were sitting in a high-backed Medieval banquet chair.
The Vantum's "active, forward-leaning alignment" comes as quite a shock at first, or at least it did to us. If you've shelled out 800 notes on a chair, you might expect to sit down and have it be the most comfortable piece of furniture ever to receive your rear, but that wasn't the case here. Our first impressions were mixed — there was certainly no 'Where have you been all my life?'-style revelation — but that was before the chair gave us a stern talking to.
What's it like to live with?
Thankfully, the benefits of the Vantum became clearer over time, and as we adjusted our workspace a little.
At first, the adjustable armrests felt frustratingly far apart to support our elbows, even at their narrowest setting. It forced us to move our laptop closer to the edge of the desk, which in turn pushed our elbows further apart and pushed us back into a better, straighter sitting position. Our tendency to slouch over the table edge with the keyboard inching further and further away as the day progresses wasn't going to work anymore. The Vantum wouldn't permit it.
For the first week or two, it felt at times like the chair was a schoolmaster slapping our wrists whenever we fell back into our old bad habits. Through its design, it can feel like it's chastising you with a curt 'sit up straight!' which takes time to adapt to.
In fact, those first days with the chair reminded this writer of switching to a vertical ergonomic mouse for the first time following too many years of assembling Billy bookcases with a hand screwdriver. There was an extended period of adaptation with that, too, as the cursor repeatedly overshot the target and, for a week or two, a similar sense that this new-fangled piece of kit was an expensive waste of time.
However, in a similar way, the Vantum grew on us. After four weeks of 8+ hours days with it, the best thing we can say is that our back hasn't ached for the last three-and-a-half weeks. With no other change to our daily routine, this improvement can only be down to the chair's matronly wrist-slapping.
It's an odd one to consider that this piece of furniture has been training us, and it would be easy to 'bounce off' its inflexibility when it comes to accommodating slouchy ways, but, ultimately, results are results. As someone with a history of back complaints (including infrequent bouts of sciatica), the Vantum has done its job.
Gaming with the Vantum
So then, the chair promotes good posture for PC gamers, streamers, or anyone sitting at a desk, though it's entirely possible to kick back and relax in it. Those eye-catching red dials under the seat adjust the recline limit (left) and resistance (right) enabling you to find the sweet spot whatever your gaming situation.
That doesn't mean it will suddenly become a sofa you can sling your legs over while chomping through Doritos and 'Dew. It's still a serious, business-first brand of chair that won't let you slide and slouch into any old position. However, we spent a good few hours playing Switch handheld in it very comfortably.
As something designed for a desk, it's hardly in its natural habitat if you wheel it in front of your 55″ OLED for some docked console gaming. But if that is something you want to do, the Vantum keeps you suitably upright, supported, and comfortable during long gaming sessions, and the addition of the headrest this time is a big plus when you lean back.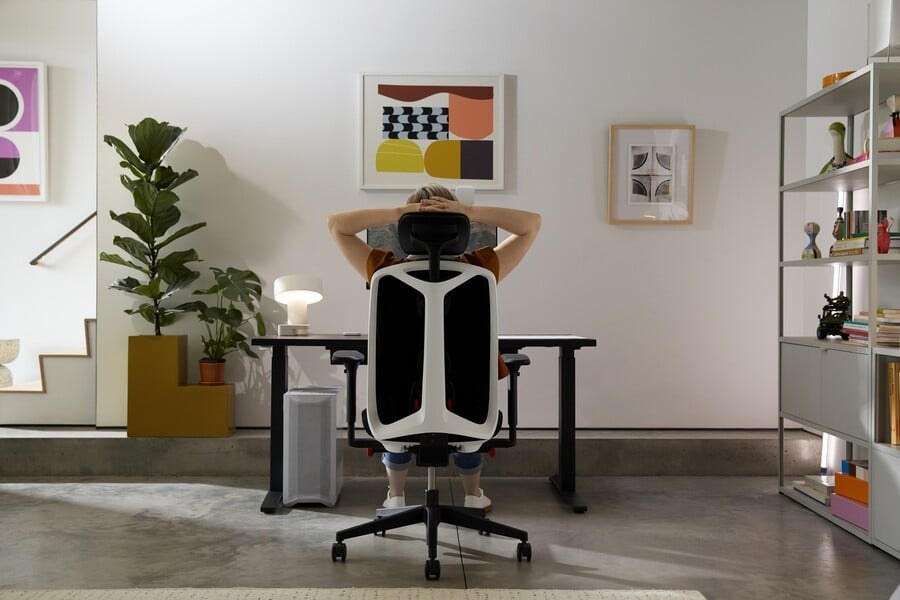 Conclusion
If you've fallen into bad sitting habits, the Vantum can feel like a hard taskmaster at first. However, as a tool to actively improve and maintain your posture while seated, it certainly doesn't slack on the job. If you're the kind of person who hires a personal trainer but really just wants a chat during a light workout, you likely won't get on with this gaming chair. This one is a drill sergeant who will put you through your paces and pick you up on any little posture-based fault, but you'll thank it in the end. After all, if you want a beanbag, you should probably get a beanbag. If you're looking to invest (and it is an investment) in a serious chair for gaming, streaming, and deskwork — and one without all the neon 'gamer' baggage — the Vantum is a fine, no-nonsense option.
Thanks to Herman Miller for supplying the sample for review. The Vantum Gaming Chair is available now on Herman Miller's website.